---
Please note: If you like the content on this page, many of the pieces on this site have been edited, updated, merged, consolidated, or entirely rewritten (as necessary) for inclusion into my new book series (which also features entirely new content).
---
Excerpt from: my book series
Not everyone will understand your journey…
The only person that is truly aware of your emotions, your intentions, or your interpretation of experiences — which is all they can be — is you.
As much as others may — at times — identify with you or your actions, it is impossible to go through life without occasionally being misunderstood. While you can control what you say and how you act, you cannot control how others choose to interpret it. And it may sometimes seem that no matter how much you try to explain yourself to others, they just don't "get it".
This should be expected.
Not everyone will understand your journey. That's fine. It's not their journey to make sense of. It's yours.
---
September 30, 2015: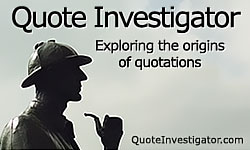 Today I am truly honored by Quote Investigator (AKA Garson O'Toole), who, after thorough research, has verified that I am the original author of the often shared, but rarely attributed quote, "Not everyone will understand your journey…". Thank you, Garson.
---